There were times when dollar coins were not made, and people used other denominations. Â But the dollar coin is back in production again, only it is no longer made of silver. The coin's golden color does not come from gold, but a special mixture of copper, zinc, manganese, and nickel.
Sacagawea Dollar
The Sacagawea dollar also known as the "golden dollar" is a United States dollar coin that has been minted every year since 2000, although not released for general circulation.
These coins have a copper core clad by manganese brass, giving them a distinctive golden color. The coins were struck in Philadelphia, Denver, San Francisco and West Point  Mint .
Sacagawea dollar bears a "W†mint mark, signifying that the coins were struck at the West Point Mint. The reverse of each coin bears an original tail feather design that was replaced later.
FIRST SACAGAWEA DOLLARS
2000 "CHEERIOS†SACAGAWEA DOLLAR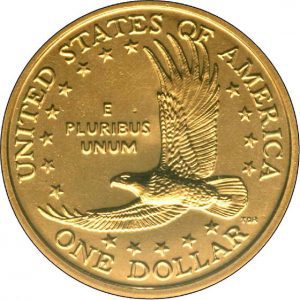 This type of Sacagawea dollar is considered to be a true pattern, and pieces are somewhat difficult to find. When the coins were being examined closely, it reveals the differences in the tail feathers of the eagle.
2000-P GOODACRE PRESENTATION SPECIMENS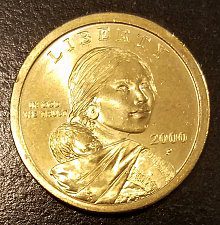 The 2000-P Glenna Goodacre Sacagawea dollar was a sculpture from New Mexico. The majority of the coins had a special burnished finish to them.
Sculptor Glenna Goodacre designed the obverse of the Sacagawea dollar. The coin features an obverse by Glenna Goodacre since she created the obverse of the Sacagawea dollar.
2000-P Wounded Eagle Die Variety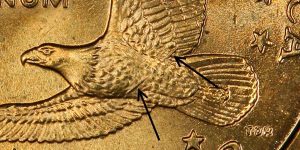 The 2000-P "Wounded Eagle" Sacagawea dollar is named because of a raised die flaw that cuts across the eagle's belly. They refer to it as "Reverse Die Aberrations†and make a special note that "some collectors have nicknamed this the 'speared eagle'.† In actuality, "wounded eagle†was and continues to be the far more popular nickname. It is frequently certified by some of the grading companies as a "wounded eagle.â€
2007 Sacagawea Dollar With Edge Lettering
The 2007-D Sacagawea dollar should have a plain edge, but instead it bears the Presidential dollar inscription of date, Mint mark, and mottoes "E PLURIBUS UNUM†and "IN GOD WE TRUSTâ€. All edge elements appear incuse.
The 2007-D Sacagawea dollar with Presidential dollar edge lettering was discovered by Moores in early November 2007.