Do you see something strange in your change? For National Coin Week, the U.S. Mint is mixing things up and launching a limited amount of America the Beautiful quarters with the "W†mint mark into circulation – a first for the U.S. Mint in 227 years of minting coins. While West Point has produced quarters in the past, they didn't have a mint mark and were indistinguishable from Philadelphia quarters.
The goal of the initiative is to create excitement about coin collecting by introducing rare coins into circulation, allowing anyone the opportunity to collect the quarters from their pocket change.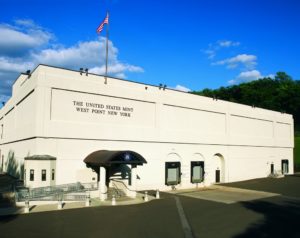 In total, the West Point Mint will strike 10 million quarters that will be mixed into bulk bags of quarters at the Philadelphia and Denver Mints. In early April, the first of the W mint mark quarters will be shipped and distributed to banks and financial institutions by the Federal Reserve. The coins will likely begin to appear in circulation within four to six weeks and will be available throughout 2019.
The announcement of the W mint mark quarters ties in with the American Numismatic Association's National Coin Week from April 21-27, 2019. Also during the month of April, independent coin dealers will place approximately one million of their own collectible coins into circulation across the United States as part of the Great American Coin Hunt.
Since 1835, the Mint has issued coins with mint marks, which identify the facility that struck the coin. The most common mint marks are a "Pâ€, which denotes coins made in Philadelphia or "D†for coins made in Denver. Typically, circulating coins are made in Philadelphia or Denver.
The two other mint marks currently in use are an "S†for coins struck in San Francisco and a "W†for coins produced at West Point. The San Francisco and West Point Mints primarily produce proof, commemorative, and/or bullion coins.
This year, however, the Mint is producing approximately 1% of the total circulating quarters at West Point, making the "W†mint mark quarters the first of it's kind. This is a limited initiative, so go search for your W quarter today!